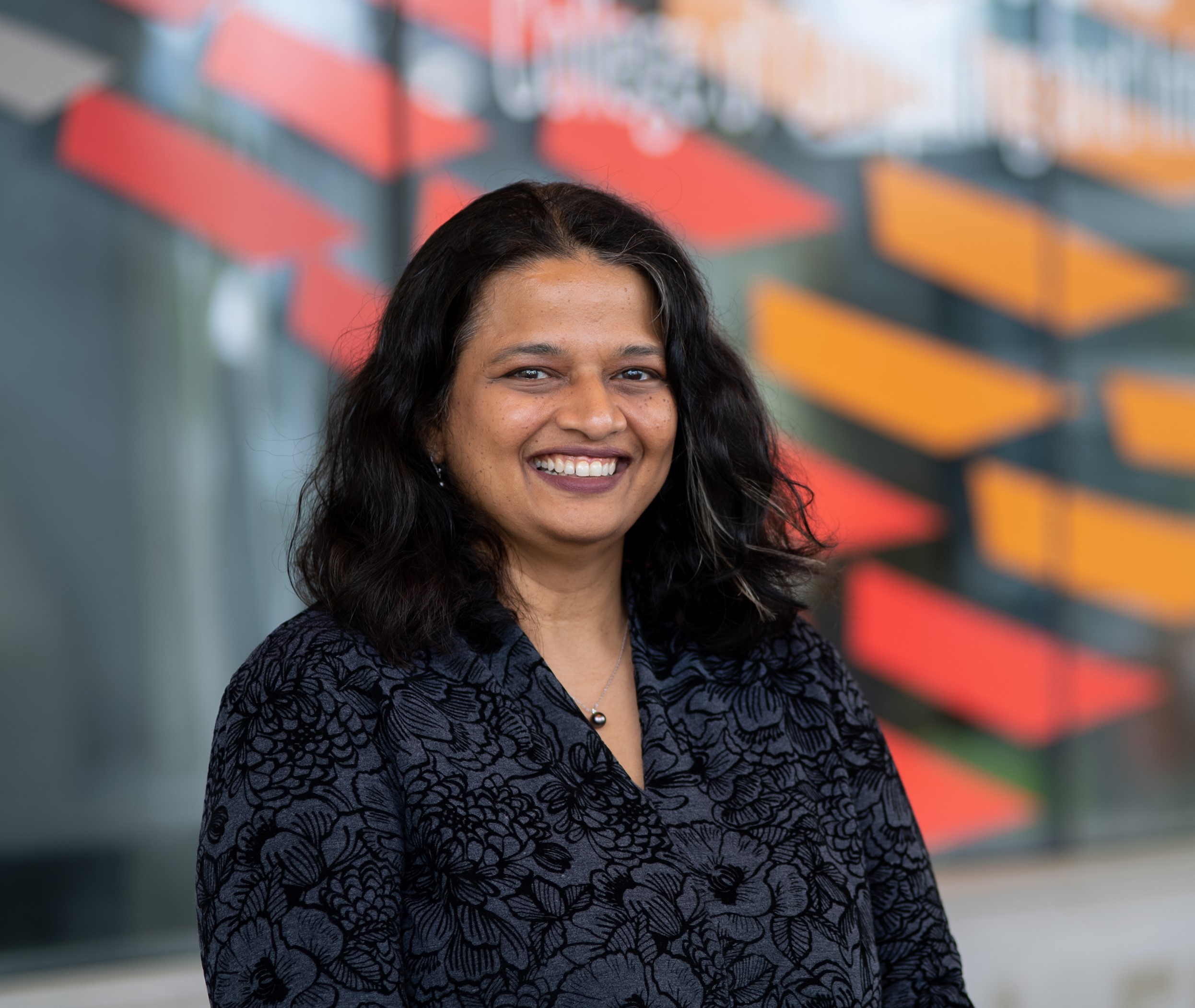 "The Cornell CIS model was visionary and decades ahead of its time. Now, 23 years after its founding, we live in a time of both urgent challenges and amazing opportunities. Cornell Bowers CIS will continue to push boundaries in the information age through its commitment to develop state-of-the-art computing and information technologies, and to study and understand the societal and human impact of these technologies."
— Dean of Cornell Bowers CIS Kavita Bala, professor of computer science
Leading the way in tech innovation
A transformative gift launched Cornell's Faculty of Computing and Information Science into its next phase of groundbreaking inquiry and impact.
The nine-figure commitment made by Ann S. Bowers '59, an early Silicon Valley leader and longtime Cornell supporter, established the Cornell Ann S. Bowers College of Computing and Information Science, cementing the college's status as a leading academic center for tech innovation, radical collaboration, and world-class scholarship.
The gift allows Cornell to further build its preeminence in the fields of computing, information, and statistics and data science—a legacy seeded in 1965 when Cornell founded one of the first computer science departments in the country.
A human resources leader at Intel in the 1970s and one of Apple's first vice presidents in the 1980s, Ann spent her career developing and fostering an environment where technologists could thrive. In addition to her professional accomplishments, Ann has been an active philanthropist for many years—including chairing the board for The Noyce Foundation, which focuses on improving math and science education in public schools.
At Cornell, Ann is a trustee emerita and has served on numerous advisory boards. She chaired the Cornell Silicon Valley advisors for many years, galvanizing the university's presence in the Bay Area.
Cornell Bowers CIS is the first college at the university named for a woman—a fitting honor at a college that showcases and supports strong female leadership. Cornell President Martha E. Pollack and Dean Kavita Bala are both computer scientists, and 43% of CIS majors are women—far exceeding the national average.
Integrating the college's three departments evolved from the understanding that emerging data and computing technologies would transform virtually every area of academic inquiry and human life. This fusion, built upon Cornell's unrivaled strengths spanning computer science, information science, statistics, data science, engineering, and economics, as well as social and behavioral sciences, fueled unprecedented innovation and collaboration.
Over the last two decades, Cornell has created the blueprint for the field of computing and information science. As other institutions seek to replicate this approach, CIS continues to be on the leading edge of its contributing disciplines, all while broadening understandings, guiding ethics, and developing technologies for the information age.
Cornell Bowers CIS Innovation Fund
Support the Cornell Ann S. Bowers College of Computing and Information Science Innovation Fund, and our students!
Cornell Bowers CIS teaches students the skills needed to make positive change in an increasingly technologically informed world. Our researchers work at the interface where technology transforms science and policy across engineering, medicine, science, and the arts—with the shared goal of creating an equitable and sustainable future for all.
With generous support from our donors, the college remains at the forefront in innovating approaches to examine the human experience in new ways. Every gift to Cornell Bowers CIS makes a difference in the lives and education of our students.
Join us today and support the world-changing leaders of tomorrow!
Empowered by Ann S. Bowers' investment, Cornell Bowers CIS is pursuing a growth strategy that supercharges the college's impact on higher education, technology, and society.
The Bowers gift enables a new multi-use building that will house an exemplary environment for teaching, research, interdisciplinary exchange, and interactive learning. An expanded CIS campus will bring the college's three departments closer—further enhancing the vibrant community at the heart of our Ithaca-based campus.
Award-winning Boston-based firm Leers Weinzapfel Associates leads the design of the building, which will stand adjacent to Bill & Melinda Gates Hall. In September 2021, Steve '95 and Alexi '96 Conine, along with Niraj '95 and Jill Shah, added to the Bowers gift momentum with a combined $10 million gift.
Additional philanthropic support is needed to ensure construction remains on course for spring 2025 move-in. A vital first step in the Cornell Bowers CIS growth strategy, the building will provide currently unavailable academic, collaboration, and study spaces important to students and faculty alike. State-of-the-art research labs will be a key motivator in the recruitment and retention of top faculty.
Outstanding naming opportunities are available to recognize gifts between $75,000 and $10,000,000-plus.
Should you be interested in learning more, please contact: Danielle Bluey, Associate Dean for Alumni Affairs & Development, danielle.bluey@cornell.edu; or Amy Horner, Associate Director of Development, ash6@cornell.edu.
Niraj Shah '95 & Steve Conine '95
Gifts totaling $10 million—$5 million from Steve Conine '95 and his wife Alexi Conine '96, and $5 million from Niraj Shah '95 and his wife Jill Shah—were announced in September 2021.
The combined gift, led by the co-founders of the online home-goods retailer Wayfair, will bolster college growth to support increasing student demand and interest in computing and information science.
Cornell Bowers CIS faculty are renowned leaders, expanding fields of inquiry, developing core technologies, and examining the societal, sustainability, and ethical implications of technological innovation.
Driven by exponential student demand, the college must invest heavily to expand its faculty—with a goal to increase by 50% over the next few years. Growth at this scale will allow the college to seize opportunities in critical research and emerging subfields and increase cross-disciplinary and university-wide collaboration.
Endowed professorships are among the best tools in recruiting top faculty and provide incentive for the best scholars to stay at Cornell. Current-use gifts directed to faculty support enable the college to offer critical start-up funding to the most sought-after talent in a market in which we compete not only with other institutions, but with industry as well.
The college's ability to hire the best academics ensures our continued prominence at the top echelon of similarly scoped programs and enables us to meet overwhelming student demand for our classes and programs.
♦ Distinguished Professorship: $5,000,000
Awarded to exceptional senior scholars in recognition of career-long achievement, the endowed professorship enables support for research—essential in the face of competing offers from other institutions.
♦ Leadership Chair: $3,000,000
The faculty chair is awarded for a specified term of years to a newly tenured faculty member, often at the point in their career when they are most at risk of recruitment by a competitor institution.
♦ Faculty Fellowships: $500,000
The faculty fellowship is a current-use fund, enabling the Dean to support an early career faculty member. Fellowships provide startup support for research, beginning at time-of-hire and extending up to five years.
For additional information on how you can invest in the future of Cornell Bowers CIS through faculty support, please contact: Danielle Bluey, Associate Dean for Alumni Affairs & Development, danielle.bluey@cornell.edu; or Amy Horner, Associate Director of Development, ash6@cornell.edu.
Student Access, Experiences, and Educational Opportunities
David Kim '22 works on a robot to assist people with mobility issues
The college attracts exceptional minds and provides them with the tools, engaged learning opportunities, and mentoring needed to be successful in their chosen fields—regardless of their ability to pay. Our programs offer the sound fundamentals and technical expertise required for students to problem-solve across multiple domains.
Student app developers enrich life on campus and beyond
Undergraduate enrollment in the college's majors has grown sixfold over the past decade, with a record 2,000 majors in spring 2022. Notably, more than 76% of Cornell's 15,500 undergraduates take at least one Cornell Bowers CIS class.
At the graduate level, Cornell Bowers CIS competes internationally for top talent, with alumni pioneering computing and information technology across academia and industry.
There are several ways you can support Cornell Bowers CIS students—from financial aid to funding research, entrepreneurial, and career-readiness opportunities.
Your investment helps shape tomorrow's leaders.
Should you be interested in learning more about these options, including Cornell's current affordability challenge, through which your gift can have an even greater impact, please contact: Danielle Bluey, Associate Dean for Alumni Affairs & Development, danielle.bluey@cornell.edu; or Amy Horner, Associate Director of Development, ash6@cornell.edu.
Diversity, Equity, and Inclusion
Cornell was an early and enthusiastic leader in dramatically broadening the scope of the technology field to include, support, and advance women and students from traditionally underrepresented groups. As a result, the college's student body surpasses national averages for diversity: 43% of majors are women, and 16% are underrepresented minorities.
Looking ahead, Cornell Bowers CIS is committed to growing the backgrounds, identities, and intellectual persuasions of its students to reflect the communities from which they come, and the futures of which they will shape.
If you would like to help Cornell Bowers CIS further broaden the participation of marginalized populations and promote a cultural climate that celebrates diversity, equity, and inclusion, you can do so by making a gift to the Cornell Bowers CIS Innovation Fund.
Please specify in the "Other Designation or Special Instructions" box that your gift is to be directed to DEI initiatives.
Your support will enable us to sustain and build upon the programs that have proven successful and fulfill our mission to better serve our communities.
Cornell Bowers CIS comprises three departments—Computer Science, Information Science, and Statistics and Data Science—and has a variety of top-ranked programs and acclaimed research.
This unique structure fuels collaboration across disciplines and the university's campuses to position Cornell as a leader in developing and driving the visionary research and technological advances that connect people, information, and ideas.
The college's academic footprint extends well beyond the university's Ithaca campus. In New York City, its ties with Cornell Tech have created a powerful technology ecosystem that is unique in all of higher education.
Ranked among the best in the world, Cornell's Department of Computer Science is distinguished both by its contributions to the core challenges of the field and by its interdisciplinary spirit. The department has long excelled in the areas that serve as intellectual foundations: theoretical computer science, programming languages, distributed systems, artificial intelligence, information retrieval, scientific computing, and visual computing. Globally, it leads in security, reliable computing systems, machine learning, computer vision, and natural language processing. Faculty have also pioneered the emerging fields of computational sustainability and computational social science.
Across these myriad disciplines, Cornell researchers are establishing the computing and mathematical framework that supports practical applications from game theory and network modeling that inform large-scale social platforms, to logic and formal verification that help build reliable systems.
The Department of Information Science was born in the early 2000s to address the growing opportunities, interactions, and challenges at the intersection of computing and society. Bolstered by Cornell's historic, cross-disciplinary strengths in computer science and social science, the department has rapidly grown to a position of global leadership.
Information Science is fundamentally concerned with the human-centered aspects of computing and information—ranging from how individuals interact with computing devices, to studying people through their social and information network use, and understanding the way computing systems affect our society and culture. Areas of distinction include: human-computer interaction; computational social science; science and technology studies; ethics, law, and policy; interaction and critical design; network analysis; market and mechanism design; and machine learning and natural language processing. In recent years, the department has added new emphases in digital humanities, accessibility, human-robot interaction, algorithmic fairness, accountability and transparency, information and communication technologies for development (ICTD), and learning analytics.
The Department of Statistics and Data Science's academic and research programs take advantage of Cornell's extensive resources, drawing from many colleges and research groups. Its unique cross-college structure encourages collaboration and innovative, interdisciplinary pedagogy in a field that is increasingly central in identifying and addressing the most pressing problems of the modern world through the science of learning from data, and of measuring, controlling, and communicating uncertainty.
The department develops and combines modern statistics methodology with data science and machine learning to advance the biological, physical, and social sciences. Other departmental specializations include mathematical statistics, computational statistics, as well as the development of statistical methods for fields ranging from agriculture, astrophysics, ecology, economics, and epidemiology, to financial modeling, imaging, genomics, medicine, neurobiology, public health, risk management, and the law.
Cornell Bowers CIS faculty lead in their fields, with honors and awards including:
3
IEEE Von Neumann Medal Recipients
9
Members of the National Academy of Engineering
4
Members of the National Academy of Sciences
7
Members of the American Academy of Arts and Sciences
Enrollment in Cornell Bowers CIS has grown sixfold over the past decade, with a record 2,000 majors in spring 2022; more than 76% of all Cornell undergraduates take at least one Cornell Bowers CIS class.
of Cornell Bowers CIS majors are women
of Cornell Bowers CIS majors are underrepresented minorities
Statistics and Data Science
A History of Innovation @ Cornell Bowers CIS
1965
Department of Computer Science formed; Juris Hartmanis appointed chair.
Gerard Salton, "the father of information retrieval," brings his SMART system to Cornell.
1966
First Ph.D. in Computer Science awarded.
1974
Program of Computer Graphics, started under Don Greenberg, receives NSF funding, first of its kind.
1978
Computer Science introduces bachelor's degrees with partner colleges.
1979
John Hopcroft publishes "Introduction to Automata Theory, Languages, and Computation" with colleague Jeffrey Ullman.
1985
Cornell Theory Center founded, one of only four NSF supercomputer centers.
1991
arXiv founded, an open-access archive of scientific articles.
1999
Faculty of Computing and Information Science established.
2002
Information science Ph.D. program established.
2005
Department of Statistical Sciences joins CIS.
2010
Department of Information Science established.
2011
Cornell Tech wins NYC Competition.
2014
Gates Hall becomes new home for CIS.
2017
Cornell Tech dedicated in New York City.
2019
CIS celebrates 20 years.
Department of Statistics and Data Science established.
2020
Transformative gift from Ann S. Bowers '59; CIS renamed the Cornell Ann S. Bowers College of Computing and Information Science.
2021
Over 1,000 degrees granted.
2022
2,000 undergraduate student majors.
Cornell Bowers CIS: A bold experiment
Cornell University undertook a bold experiment in 1999 when it created its combined Faculty of Computing and Information Science ("CIS") as an interdisciplinary unit that would ultimately see its people, programs, and projects embedded throughout the university.
Today, Cornell Bowers CIS continues to push boundaries in the information age through its commitment to both developing state-of-the-art computing and information technologies, and in studying and understanding the societal and human impact of these technologies.
Support the Cornell Ann S. Bowers College of Computing and Information Science Innovation Fund, and our students!
Catalyst and Creator of Vital Technologies
Researchers at Cornell Bowers CIS work at the interface where computing and information technology transforms science and policy across engineering, medicine, science, and the arts.
DRNets can solve Sudoku, speed scientific discovery
An interdisciplinary research team led by Carla Gomes, the Ronald C. and Antonia V. Nielsen Professor of Computing and Information Science, has developed Deep Reasoning Networks (DRNets), which combine deep learning – even using a relatively small amount of data – with an understanding of the subject's boundaries and rules, known as "constraint reasoning."
Bowers CIS SoNIC program inspires roboticists
SoNIC – a weeklong summer workshop hosted by Cornell Bowers CIS' Office of Diversity, Equity and Inclusion – aims to elevate and inspire underrepresented students to pursue graduate studies in tech fields like computing and information science. This year, nearly 30 students from universities across the U.S. met up at Cornell for a crash course in robotics, ultimately developing "smart canes," assistive technology for the visually impaired.
Technology helps self-driving cars learn from own memories
An autonomous vehicle is able to navigate city streets and other less-busy environments by recognizing pedestrians, other vehicles and potential obstacles through artificial intelligence. Unfortunately, artificial neural networks have no memory of the past and are in a constant state of seeing the world for the first time – no matter how many times they've driven down a particular road before. 
Researchers are developing new technology to help overcome this limitation by providing the car with the ability to create "memories" of previous experiences and use them in future navigation.
AI, Machine Learning, and Statistics
As a leader in the growing field of artificial intelligence (AI), Cornell is leveraging its interdisciplinary research across the Ithaca campus, as well as with Cornell Tech and Weill Cornell Medicine in New York City, to bring AI, machine learning, and data science to bear in areas and applications including: sustainable agriculture; improved urban design and infrastructure; and personalized, precision medicine and health.
To meet the growing needs of these and other practical domains, the work is informing tech development related to recommender systems; chat bots; Fairness, Accountability, and Transparency; augmented reality; and scientific discovery in physics, biology and materials—among many other direct applications.
In November 2021, led by Dean Kavita Bala, the university launched the Cornell AI Initiative to deepen opportunities in the development and application of AI within the field, and across AI-related, and AI-influenced fields.
Security, Privacy, and Policy
Cornell is home to one of the largest and most prolific groups of computer security researchers in the world.
Working with applied and academic partners around the globe, these scientists are helping define a foundation for the future of cybersecurity by designing the technologies, policies, and processes that address security and privacy vulnerabilities at all levels—from the individual and household, to the corporate and global—to establish safer and more efficient computing systems.
Visual Computing, Robotics, Human-Computer Interaction
An early pioneer in the field of computer graphics, Cornell is a leader in the fields of visual computing and in human computer interaction.
Cornell Bowers CIS researchers, designers, and builders are developing the core technologies of virtual and augmented reality and are reimagining the ways that computers and robots can enhance human health, functional ability, and well-being; create greater access and equity; and improve computer interactions.
Collaborations with Cornell Tech and Weill Cornell Medicine are creating opportunities for novel research at the intersection of technology, health applications, and human interactions.
Computational Sustainability
Computational sustainability brings together AI techniques and computational methods to address some of the world's most pressing environmental and social challenges.
Created at Cornell more than a decade ago, the field has inspired the interest and investment of nearly every major science funder, and spawned a national and international consortium of researchers (CompSusNet) who design sustainable solutions related to climate, conservation, biodiversity loss, renewable energy, and global food security.
Computational Social Science
Cornell Bowers CIS researchers are designing new capabilities for the social platforms that connect everyone, focusing on enhancing the integrity and quality of the resulting interactions, and leveraging the voluminous data generated by these systems to understand the effects of social media on human behaviors and interactions at population scale.
Predominantly pioneered at Cornell, the field thrives on the interdisciplinary spirit and collaborative practices that serve as the hallmarks of the college. As the field expands to incorporate institutions and investigators around the world, Cornell Bowers CIS remains at the forefront in innovating approaches to examine the human experience in new ways.
The Initiative For Cryptocurrencies & Contracts (IC3)
An area of signature strength brings together experts from cryptography, distributed systems, programming languages, game theory, and system security to make cryptocurrencies a safe, secure, and productive part of everyday life.
Researchers are establishing the scientific foundation for efficient, scalable solutions to the issues of cost, reliability, performance, transparency, and confidentiality that must be addressed to realize these goals.
Digital Agriculture
Cornell Bowers CIS researchers are spearheading the Cornell Initiative for Digital Agriculture (CIDA)—a campus-wide effort to harness the power of data and digital sensing technologies to re-envision how food is produced, processed, and distributed, and to improve food access, security, and communal health throughout the world.
The new Center for Research on Programmable Plant Systems—funded by a five-year, $25 million National Science Foundation grant—will develop technologies connected to the internet and the cloud to listen to and learn how plants sense and respond to their environments.
The information these systems gather will help researchers better understand how to manage nutrients and water, for example, and how microbes work with plants to help them grow.
Support the Cornell Ann S. Bowers College of Computing and Information Science Innovation Fund, and our students!